November 21st 2012
During a public meeting at the Agios Dimitrios City Hall - the Mayor presented us with a richly illustrated book on the Pikrodaphne Stream - a unique album full of wildlife 96 pages long, a hardcover monument to the stream..
Title: Discovering Pikrodaphne: A tour of the nature of Pikrodaphne Stream (in Greek).
The text is by well-known naturalist Martin Gaetlich - a man with a passion for urban wildlife issues and by the Municipality of Agios Dimitrios (The Mayor and her staff helped also).
The work is edited by expert book-creator Nikos Petrou, president of the Hellenic Society for the Protection of Nature - http://www.eepf.gr/en/about
It was designed by Aris Vidalis with photographs by M. Agiazmatzi, A.Vidalis, M.Vlachou, Ch.Vlachos, M.Gaetlich, M.Kotsakis, Ch.Belias, N. Paterakas and N. Petrou. (Photos were given freely by the photographers for the cause). Unfortunately the book is not available in book-stores and one must probably have to talk to the Municipality to get a copy. Soon in will be out-of-print. Try to find a copy!
Mayor M. Androutsou talked fondly of the book during the recent public meeting on Pikrodaphne Stream. The cover of the book features an Olivaceous Warbler on an Oleander bush (Pikrodaphne= Oleander in Greek).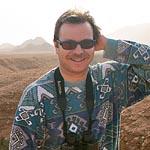 Martin Gaetlich, writer of Pikrodaphne, now living in Ireland. I first met Martin back in 1984 when he was one of the most passionate activists in the Hellenic Ornithological Society. We worked on several projects together. I hope he will continue to have a conservation presence in Greece.